Firstly, thanks to all of you who have sponsored me in the past couple of weeks – your kind generousity has taken me 3/4 of the way to my target and I'm extremely grateful. You've seen in previous posts what an amazing charity we are all working for here and I'm happy and confident that every pound earned is going to a good cause.  If you haven't sponsored me yet, please do so here – it would really spur me on during the marathon knowing that I've hit my target!
Talking of the Marathon… I've now hit the taper! For those of you who don't know (I didn't until I started this crazy scheme) the taper is a wonderful invention that comes at the end of a very cold, dark period of training and allows the trainee to recuperate, rest a little, allowing the muscles and the mind to heal and get strong again.
And man, do I need to heal. Sunday was the biggest run that I'll do for this marathon: 19.5 recorded miles, but with warm up and warm down I hit the 20 miles required for training peak.
This was a very lovely 20 miles, I have to say. I had dropped Max off at Legoland where he was having fun with a friend then I parked in the centre of Windsor and embarked upon my big journey.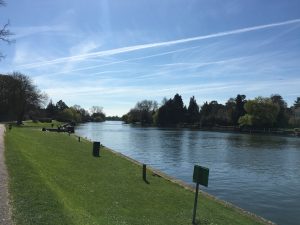 So long the river I plodded from Windsor up to Taplow past Bray and up to Maidenhead. All lovely areas with multi-million pound houses nestling smugly alongside the riverbank – many nice sights and lots of nature to behold. The sun was shining, the river was glistening and after 13 miles, my left knee was screaming. Note to self: get this checked out PDQ.
On the way back a brief stop at a petrol station in Maidenhead for lucozade and chocolate then off I staggered for the journey back. All in all a super slow time – I'm probably looking at a 6 hour marathon – but 20 miles is 20 miles (and nearly 45,000 steps according to my Garmin). And that makes 82.3 miles run in the past 4 weeks – plus over 13,000 calories burned (why have I not evaporated yet?).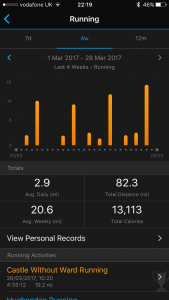 So back to this tapering malarkey – yes, oh yes,  a great invention indeed! I now get to reduce my miles significantly – tapering from 20 miles downwards  over the next few weeks where I'll be doing some short 4/5/10 mile runs in the weeks running up to the event. Deep joy.
And that event is a mere 25-ish days away. Am I looking forward to it? Yes I really am! The darkest days are over now – Sundays have been a total write-off for the 4-6 weeks for example, consisting of a run of up to 4 hours, a journey home, a little basking in the endorphin rush that running brings, a hot shower, some moping around in pain, some snoozing, some staggering around trying to achieve some sort of normality while one's body just wants to shut down then, finally, collapsing into bed early. A couple of days of recovery (at work) the I'm off again for a couple of weekday morning runs before Sunday comes around again.
So the fact that I'm at the top of the mountain looking down is a good feeling – and as daunting as the 26 miles is, I've trained for it, I know it won't be pretty but I know I'll get through it…somehow.
The other thing: ironically, I feel the marathon training is actually now getting in the way of me getting healthy. Sounds weird but this journey has sort of taught me where I have been going wrong for 43 years in terms of health and exercise. But being knackered all the time due to marathon training now prevents me from doing decent moderate runs and eating healthily – I look forward to getting things back to a sensible level; everything in moderation as they say.
Onwards and upwards – and looking forward to getting my summmer bikini body on track…
Peace and love all!