Hi Everyone,
Just under 8 weeks to go and things are well on track – however I'm about to enter the most intense part of training before taking a bit of a rest just before the marathon.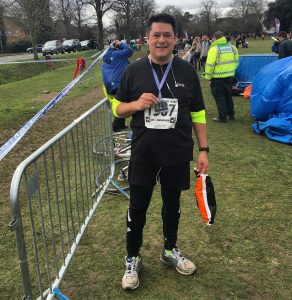 After having done a couple of 10-milers in recent weeks, this Sunday I completed the Hampton Court Half Marathon, an important milestone in the training programme. Considering I hadn't run more than a few miles before last August, 13 miles was quite a feat and an important psychological hurdle – I'm basically half way to the marathon now and that's not a bad thing.
That said…
I was pretty slow; in the last 25% of runners without doubt.
Running over 10 miles in a competitive environment is very different from lone running on a known route. That meditative state, the saviour of many a long distant runner, doesn't happen in a race like this, at least not for me. And despite telling myself I didn't care about anyone else, I was still running mini races and making sure I looked good-ish on the course, in other words not much walking and certainly no stopping for a breather. This meant a lot of tension on the body and I've only just de-tensed today to be fair.
I've been running a lot of tracks and trails up to now; the streets of suburban SW London are very different and harder on the feet. I need to get on some streets, and perhaps time for some new trainers too.
But it was all good and the euphoria at finishing such a scenic, friendly and well organised race was amazing. Plus there was the added bonus of a nice chunky medal,  finisher's t-shirt and a pretty respectable goodie bag abundant with protein based munchies and other freebies – always nice.
Now, onwards, increasing my long runs 10% each week until I hit 22.5 miles a few weeks before the marathon then I hit the taper – right in time for a week of skiing.
The next few weeks will be interesting.
Peace and love everyone – thanks for all the support, thanks to everyone who has so generously sponsored me so far and if you haven't managed to sponsor me yet, the link is here. I'm off to a team day at Ambitious About Autism on Sunday and will report back here – but I just know they're all so grateful for every penny, thank you!